Holistic Chicken & Rice
A complete and balanced blend of thoughtfully chosen quality ingredients perfect for active adults, small breeds, and large breed puppies.
We start with human-grade chicken meal for a highly digestible and tasty recipe. Our high digestibility makes it easier for your loved one to turn our protein into muscle tone, stronger tissue, and antibodies. A superior balance of Omega 6:3 fatty acids and antioxidants help protect your adult dog and puppy's immune system. DHA, an Omega 3 fatty acid, is critical for puppy's brain and vision development. Natural EPA supports a strong heart and healthy central nervous system.
Quality carbohydrates – Brown Rice, Milo and Oat Groats, blended to give sustained energy throughout the day. NO corn, soy or wheat!
Proteinate Minerals – organic minerals combined with natural protein amino acids offering better absorption for your dog.
NO artificial flavors, colors, sugars, or chemical preservatives.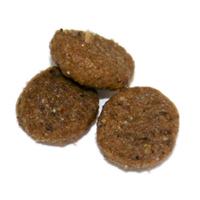 For a similar blend made with lamb meal check our our Holistic Lamb & Rice Premium.