WITH THE INCREASED DEMAND RECENTLY WE ARE TEMPORARILY LIMITING ORDERS TO NO MORE THEN 60 LBS. OF THE HOLISTIC CHICKEN & RICE TO ENSURE EVERYONE CAN GET FOOD UNTIL OUR NEXT SHIPMENT COMES IN.  WE ARE CONSIDERED AN ESSENTIAL BUSINESS SO WE WILL BE ABLE TO MAKE DELIVERIES DURING ANY SHUTDOWN.  I AM SORRY FOR ANY INCONVENIENCE THIS MAY CAUSE!  WE ARE DOING EVERYTHING WE CAN IN THESE DIFFICULT TIMES.  YOU ARE WELCOME TO CALL OUR OFFICE IF YOUR NEEDS EXCEED THE LIMITS SET.
Holistic Chicken & Rice
A complete and balanced blend of thoughtfully chosen quality ingredients perfect for active adults, small breeds, and large breed puppies.
We start with human-grade chicken meal for a highly digestible and tasty recipe. Our high digestibility makes it easier for your loved one to turn our protein into muscle tone, stronger tissue, and antibodies. A superior balance of Omega 6:3 fatty acids and antioxidants help protect your adult dog and puppy's immune system. DHA, an Omega 3 fatty acid, is critical for puppy's brain and vision development. Natural EPA supports a strong heart and healthy central nervous system.
Quality carbohydrates – Brown Rice, Milo and Oat Groats, blended to give sustained energy throughout the day. NO corn, soy or wheat!
Proteinate Minerals – organic minerals combined with natural protein amino acids offering better absorption for your dog.
NO artificial flavors, colors, sugars, or chemical preservatives.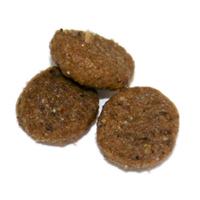 For a similar blend made with lamb meal check our our Holistic Lamb & Rice Premium.