With the increased demand recently we are temporarily limiting orders to no more then 20 lbs. of the Holistic Choice Salmon to ensure everyone can get food until our next shipment comes in.  We are expecting to have our next shipment mid-April.  I am sorry for any inconvenience this may cause!  We are doing everything we can in these difficult times.  You are welcome to call our office if your needs exceed 20 lbs. before our new shipment arrives.
Holistic Choice Salmon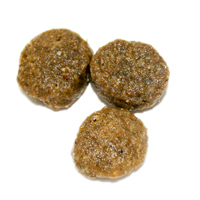 A great all-natural recipe of salmon and brown rice.  Salmon is a great source of natural Omega-3 Fatty Acids that will help dogs with skin issues and food sensitivities.  This recipe offers optimal natural nutrition for your dog and their overall good health. Antioxidants help protect overall health, and added glucosamine and chondroitin promote healthy joints. This is a single source protein food that makes this recipe an ideal choice for dogs with allergies, digestive issues, and IBD.
Ethoxyquin free salmon meal is the #1 ingredient.
Natural DHA to support brain development.
Contains optimal levels of Omega-3 Fatty Acids for healthy skin and coat.
Contains antioxidants for overall good health, as well as, glucosamine and chondroitin for healthy joints.
Whole-grain brown rice helps reduce the risk of heart disease, cancer, diabetes, and obesity.
Easy to digest and wonderful for sensitive stomachs.
Great for adult dogs and large breed puppies.
Crunchy kibble for healthy teeth & gums.