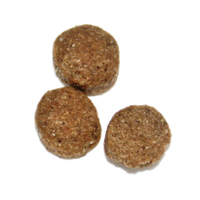 WITH THE INCREASED DEMAND RECENTLY WE ARE TEMPORARILY LIMITING ORDERS TO NO MORE THEN 60 LBS. OF THE PREMIUM ADULT MAINTENANCE TO ENSURE EVERYONE CAN GET FOOD UNTIL OUR NEXT SHIPMENT COMES IN.  WE ARE CONSIDERED AN ESSENTIAL BUSINESS SO WE WILL BE ABLE TO MAKE DELIVERIES DURING ANY SHUTDOWN.  I AM SORRY FOR ANY INCONVENIENCE THIS MAY CAUSE!  WE ARE DOING EVERYTHING WE CAN IN THESE DIFFICULT TIMES.  YOU ARE WELCOME TO CALL OUR OFFICE IF YOUR NEEDS EXCEED THE LIMITS SET.
Chock-full of healthy vitamins and minerals and has a taste that dogs just can't resist. It's perfectly suited for most
adult dogs of all breeds and sizes. This blend is formulated to work well with sensitive digestive systems.
Highly digestible proteins: Chicken that is antibiotic and chemical free and cold water Fish.
A selection of whole grains are utilized to time-release their energy so your pet does not have spurts of energy and periods of lethargy. No soy, wheat, or corn.
The right balance of Omega 6:3 fatty acids to make your dog's coat shine.
For a lamb alternative blend please consider our Natural Lamb & Rice Select.