Holistic Choice Salmon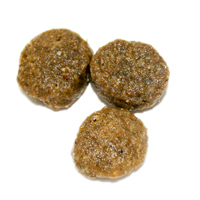 A great all-natural recipe of salmon and brown rice.  Salmon is a great source of natural Omega-3 Fatty Acids that will help dogs with skin issues and food sensitivities.  This recipe offers optimal natural nutrition for your dog and their overall good health. Antioxidants help protect overall health, and added glucosamine and chondroitin promote healthy joints. This is a single source protein food that makes this recipe an ideal choice for dogs with allergies, digestive issues, and IBD.
Ethoxyquin free salmon meal is the #1 ingredient.
Natural DHA to support brain development.
Contains optimal levels of Omega-3 Fatty Acids for healthy skin and coat.
Contains antioxidants for overall good health, as well as, glucosamine and chondroitin for healthy joints.
Whole-grain brown rice helps reduce the risk of heart disease, cancer, diabetes, and obesity.
Easy to digest and wonderful for sensitive stomachs.
Great for adult dogs and large breed puppies.
Crunchy kibble for healthy teeth & gums.